There is much more to metal stamping than most people take into consideration.
Complex parts often require a series of several different steps to create. Parts that may seem simple at first glance rarely need only one stamping step to be considered properly completed.
Confusion is often found when determining the appropriate process for metal stamping. When selecting a metal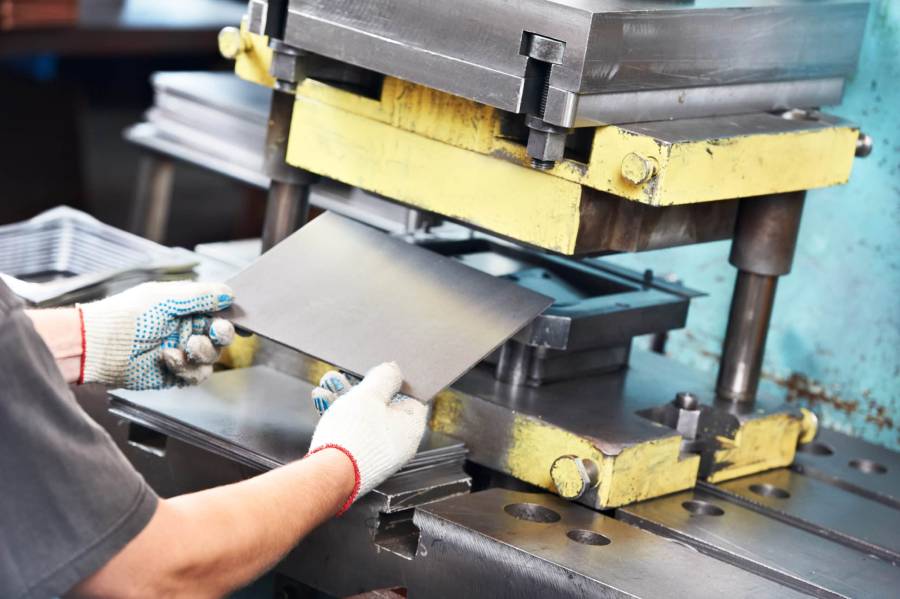 stamping process, one should consider:
How the stamping process will impact the functionality of the design
The design or industry-specific requirements
Production time and cost-effectiveness
Common Metal Stamping Processes
Disregarding steps such as design and prototyping, which are necessarily performed prior to stamping, there are nine primary processes involved in the actual stamping of metal parts.
Blanking
When required, blanking is the first step of the stamping process. Blanking is the process of cutting larger sheet or coils of metal into smaller, more manageable pieces. Blanking is usually performed when a stamped metal piece will be drawn or formed.
Piercing
If a part requires slots, holes, or other cutouts, piercing can be employed. Piercing, which can be performed simultaneously with blanking, punches the requisite shapes out of the metal sheet.
Drawing
Drawing is the actual stamping in the metal stamping process. A punch forces a section of metal through a die, providing the primary shape of the part. When the depth of the part is less than the primary opening, it is considered shallow drawing; parts with a depth greater than the opening are deep drawn.
Bending
Bending is a fairly self-explanatory process. The part-in-progress is placed on a specially designed die and a ram pushes against the metal, providing the required bend. Bending is performed after drawing, as attempting to punch an already bent piece of metal causes the entire part to deform.
Air Bending
Air bending is when the flat surface of a part is bent by a punch into a die, often V-shaped. The space between the punch and die is larger than the metal thickness, resulting in a bend that relaxes slightly when the part is released. Air bending uses less power and pressure than other bending methods.
Bottoming and Coining
Bottoming and coining are bending processes are similar to air bending, but use anywhere from two to 30 times the pressure and the material is forced fully into a tight-fitting die, resulting in a more permanent bend.
Forming
Forming is a bending process similar to bending, bottoming, and coining. It creates parts with multiple bends, such as U-bends, in one step.
Pinch Trimming
Pinch trimming is a method of cutting a piece from the metal sheet, separating it from the scrap metal. It is an unconventional process: the metal is pinched against a flat vertical surface. It is often, but not exclusively, used to cut deep drawn round cups from the sheet.
Lancing
A unique process, lancing is a type of metal cutting used to make vents or tabs. A section of a part is cut along three edges and simultaneously bent. This creates the opening or hook-like feature required but eliminates a scrap collection or secondary machining step.
Learn More
There are many different processes involved in the stamping process and, clearly, not every process is the best, or even required, for every part. With a full understanding of the processes, you can better design parts to minimize scrap, create cost savings, and increase production speed without ever sacrificing quality.
American Industrial Company, a single source metal stamper since 1981, recently published an eBook, "Understanding Metal Stamping: Design to Prototype to Production." To learn more about these different stamping processes, as well as the metal stamping process as a whole, download your free copy today.